Wanting to improve your smile? Veneers may be the answer. Veneers can help you get that movie star smile you've always wanted.
Request An Appointment

A great smile can bring a boost of confidence. At the same time, stained teeth, chipped teeth, a big gap or crooked teeth can spoil a beautiful smile and really lower your confidence. Veneers could be the answer to fixing those flaws in your smile.
The friendly and experienced staff at Carolina Oaks Dental Care is here to help you create your dream smile. We work with you to give you a beautiful and natural looking smile makeover, right in the comfort of our office. Don't give up on your smile, come by and design the one you love!
Veneers Explained
Veneers are simply a tough, but thin, cover for your teeth. They are used to mask or repair stained or damaged teeth permanently.
The veneers can be made out of different materials, such as resin, ceramic or porcelain. However, porcelain veneers are the most widely used due to their durability and their ability to mimic the natural look and feel of your original teeth.
Why Would I Need Veneers?
Veneers are a simple and long lasting solution to many different imperfections in your teeth. They can instantly improve the look and feel of your teeth. Veneers might be recommended for you if you have:
Cracked Teeth
Stained Teeth
Gaps Between Teeth
Broken Teeth
Worn Teeth
Chipped Teeth
Dull or Darkened Teeth
Professional veneers can renew teeth with these issues while also creating a whiter and brighter smile.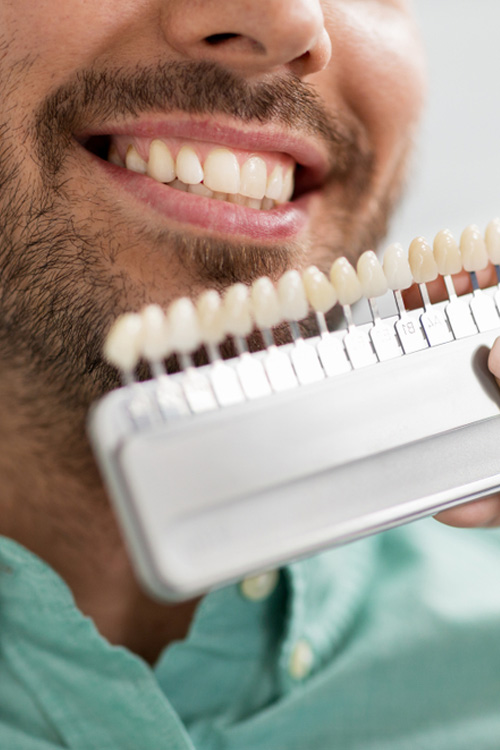 How Are Veneers Fitted to Teeth?
If you are self-conscious about your smile or are unhappy with the way your teeth look, a trusted dentist in Travelers Rest, SC can give you a new smile with veneers. There are three to four visits involved in the creation and placement of your new veneers. These will include:
Request An Appointment