Feeling confident when we laugh, smile, or speak can dramatically improve our day-to-day lives and increase self-confidence. Read below to see how cosmetic dentistry can help restore or enhance your smile.
Request An Appointment

Personalized Smile Makeovers
Everyone is looking for that perfect smile – one that is vibrant, healthy and beautiful. Achieving it isn't hard when you have the help of a trusted cosmetic dentist in Travelers Rest, SC. Carolina Oaks Dental Care provides top-of-the-line cosmetic dentistry treatments for you and your family.
If you have a missing tooth, crooked smile or simply want your teeth a little brighter, cosmetic dentistry is an excellent solution. Our team uses the most natural-looking dental materials to give you a smile you'll love and are proud to show off.
What is Cosmetic Dentistry?
Cosmetic dentistry provides improvements in the look of your teeth, though not always the operation of your teeth. Any dental work that improves the appearance of your teeth, bite, or gums is considered cosmetic dentistry.
Common Cosmetic Dental Procedures
If you have a less than confident smile or simply want to improve the look and feel of your teeth, cosmetic dentistry can help you. Cosmetic dentistry commonly includes the following services:
Teeth Whitening
A brilliant, white smile is always beautiful. However, as we age, there are many different factors that affect the health and beauty of our smiles. Cosmetic dentistry offers new technology that can brighten and whiten your smile with ease. The friendly and gentle staff at Carolina Oaks provides teeth whitening services for our patients that turn dull teeth into shining, healthy smiles.
Porcelain Veneers
A cracked tooth, a small chip, or gap in your teeth can make some people feel self-conscious about their smile. These issues can't be solved with just teeth whitening. If you have an uneven smile, gaps, chips, or cracks in your teeth, porcelain veneers can correct your smile and whiten your teeth at the same time. Veneers are simply thin porcelain covers that go over your teeth. This thin layer of porcelain is placed on your tooth to create natural looking improvements to your teeth. They are an excellent way to create a brand new smile, that looks and feels natural.
Dental Crowns
In some cases, an entire tooth needs to be covered with porcelain in order to achieve ideal positioning and durability. In cases where teeth are structurally compromised due to cavities, fillings, or fracture, a dental crown is the recommended treatment. Crowns look and feel just like natural teeth, and provide added protection against future breakage.
Natural Looking Fillings
In the past, fillings were often made of metal alloys that provided protection but didn't provide a natural look to your teeth. Today's dental technology gives our doctors the ability to care for the health of your tooth and create a beautifully natural look with each filling.
The staff at Carolina Oaks Dental Care are each skilled in providing top cosmetic dental services to get you the smile you've been longing for.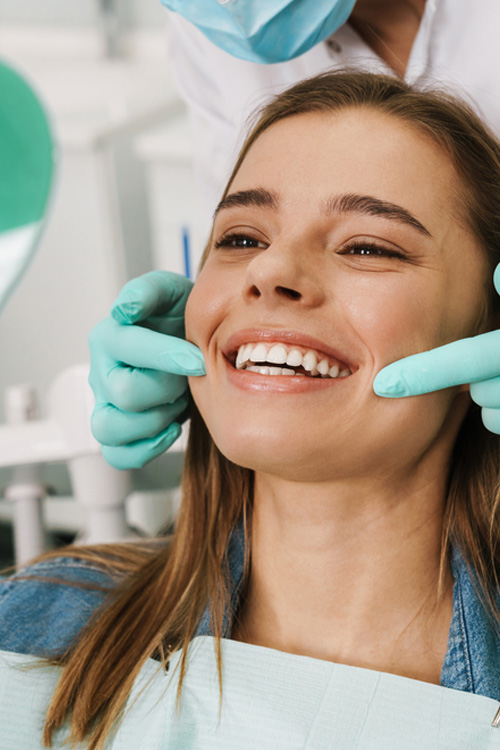 Creating Your Perfect Smile
Sometimes your teeth may work perfectly, but have a less than perfect appearance. When you need a smile makeover, your trusted cosmetic dentist at Carolina Oaks Dental Care will work with you to plan your smile.
We will go over different cosmetic treatments for your teeth, as well as any other options you may need for continued dental health. You'll be able to design your perfect smile with the help of our experienced dental staff.