A bright and healthy smile makes for a healthy and happy child. From simple exams to restorative care, our knowledgeable dentists offer a wide variety of dental services for kids.
Request An Appointment

Expertise in Growing Smiles
At Carolina Oaks Dental Care, we provide tailored dental services that evolve along with your child's smile. Our friendly, caring team focuses on prevention and education, ensuring your little one will achieve excellent oral health and have the knowledge to maintain it for life. As a trusted dentist for kids in Travelers Rest, SC, we also strive to make every visit comfortable and fun, so your child will develop a positive relationship with going to the dentist.
All About Dentistry for Kids
The Carolina Oaks Dental Care team works with you and your child to create a dental plan that fits their needs. We focus on preventative care, early diagnosis and delicate care of any dental diseases or concerns. We offer a broad range of services in pediatric dentistry, including:
Routine Dental Cleaning
Dental Examinations
Fluoride Treatments
Tooth Extractions
Root Canals
Crowns
Mouth Guards for Active Kids
X-Rays
Emergency Dentistry Treatments
As a trusted kids' dentist in Travelers Rest, SC, we're here for your child's pediatric dentistry needs. From their baby teeth to their wisdom teeth, we'll care for them every step of the way.
Children should start seeing a dentist regularly at around six months old. This is when baby teeth first start to peek through the gums. These first little teeth, the primary teeth, need extra special care. After all, primary teeth help your child maintain healthy eating habits, develop their speaking skills, and save a spot for those adult teeth that will start coming in when they are 6 or 7.
Children, like adults, should see the dentist twice a year for a routine examination and dental cleaning. These regularly scheduled visits will help catch tooth decay, damage, or other issues, such as impactions or overbites. Make sure you get your child in to see our friendly dentist every six months. We'll make sure they look forward to their visit!
Educating Your Child on Dental Care
Growing teeth need extra care, so it's important to get dental health routines started early. We work with your child to help them understand the perfect techniques for flossing, rinsing, and brushing their teeth. We can show you different methods to help your children practice regular dental hygiene as they grow, making sure their teeth stay healthy and strong.
Our dentistry practices also provide care and education for teenage patients. We will discuss options for wisdom tooth removal, orthodontic care and mouth guards for sports. As children become more independent, they will still require a dental hygiene routine and regular care. Our staff is here to make every child, no matter the age, feel welcome and comfortable during their visit.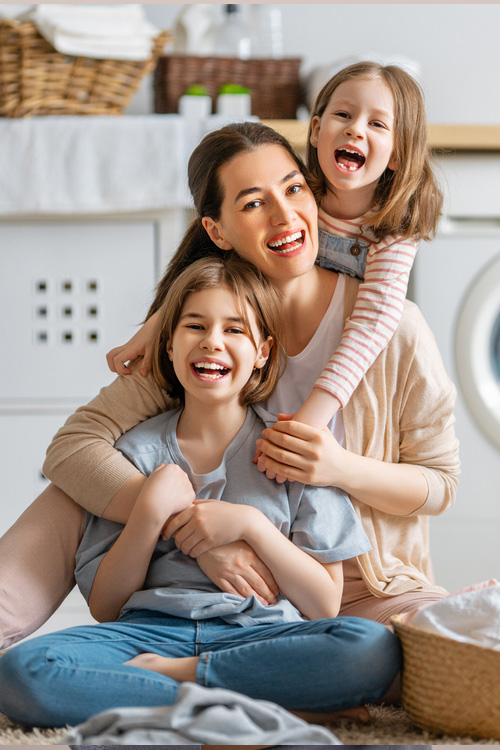 Creating A Relationship of Trust
Our dentist and dental staff work together to make sure your child has a positive experience at every visit. We want to ensure each of our pediatric patients develop exceptional dental hygiene habits at an early age. Early dental routines start children on a path to lifelong dental health. We provide a relaxed and positive atmosphere, comfortable seating, calm and soothing color schemes, and friendly staff. We also have TVs to help kids relax during their visits.
Creating trust between the child and the dentist helps children become engaged in their dental care. When your child comes in the office, they will be greeted with a kind and warm smile. Our doctors and dental staff will answer any questions children have, no matter how big or small. We work to take the worry out of pediatric dentistry, so you can come in and sit back and relax while we take care of your child.